Agency Information
Based in Bingham Farms, MI.
Founded in 1919
65% commercial and 35% personal
18 employees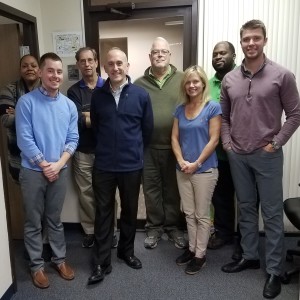 Jim Waun
"SIS's customer service is fantastic. They've been on top of it from that first sales call to our latest support needs. Someone is always there to take our email or call, and our issues are resolved in no time."
Jim Waun is the fourth generation to run almost century old Sweet & Associates. While tradition and loyalty are important to Sweet & Associates, after close to 20 years Jim and his staff hit a breaking point with this old management system. It was outdated and expensive, and they were ready for a change.
Jim soon connected with SIS. The respectful persistence and listening ear he experienced led him to get a Partner XE demo. From there, his team was sold. Find out why in his client story below.
Tell me a little bit about Sweet Insurance Agency. Where are you based and who do you serve?
We're based in the Detroit area specializing in insurance and risk management for both individuals and businesses. We're a family-owned business on our fourth generation.
You were with your old system for close to 20 years. What led you to consider switching?
It was outdated, plain and simple. (Our old system) had ease of use, but you couldn't do much with it. Besides that, the cost was far too high. Cost was a big impetus to us making a change.
When I brought my concerns to our old provider, telling them I was considering switching. They responded by saying they needed to do a large data conversion, even though they already had all of our data. And they still wanted to raise our monthly rate, even though we'd been a customer for 18 years. It was clear we were just another number to them.
You transitioned from a well-known provider and had looked into other "big names." What was it about SIS and Partner XE that sold you?
Once I knew we needed to make a change, I started asking around. Eventually, (SIS Sales Manager) Jordan Owens got ahold of me. He was very persistent but didn't bug me. He handled the approach really well. I appreciated that he didn't push too hard but was always there.
In all our conversations, it was clear Jordan was taking notes and working to get the system we needed. The other provider we were looking at didn't even come close with price comparison at first. When they came back with a matching price, it was too late. Once Jordan showed us a Partner XE demo, we were sold. It was clear SIS cared about our business, and the other provider didn't. That made it an easy decision.
Sounds like you had a great customer service experience deciding on SIS and Partner XE. Has that continued through conversion to today?
SIS's customer service is fantastic. They've been on top of it from that first sales call to our latest support needs. Someone is always there to take our email or call, and our issues are resolved in no time.
When we first switched over, the Partner XE service representative that came out to train us listened for an hour before starting anything. He answered some of our questions about the transition and listened to our ideas on how to make the system run smoother. I know for a fact he shared those changes with his team because he was able to implement the smaller ones into our system right away. One of our more complex suggestions will be released within the next month. That's pretty impressive.
How was the management system conversion process? Did you feel supported?
As with any management system transition, there were some frustrations when first got into the new system. We were used to a very basic system – one that was designed back in the 80s! Partner XE had a lot more to work with, which was great, but we had to relearn how and where to find the information we needed. But, once we got used to it, it was like night and day regarding capabilities.
What's most important to me is that my employees are happy with Partner XE and the support they receive. SIS has provided us plenty of training resources, and we have an in-office contest to incentivize folks to complete the training. Any questions or issues they have as they go through the process are answered almost immediately, keeping them on track, productive, and happy!
What are the top things that stand out about your SIS and Partner XE experience?
We're impressed by the receptiveness to our feedback. The fact that the SIS team listens and implements the changes we suggest is huge.
On top of that, the cost of the system is unbelievable. It's about half of what we were paying for with our old provider.
Finally, the transition was seamless. SIS was prepared for almost anything, and if we found something was missing, they were nimble enough to make modifications to accommodate our needs.
What advice would you offer to another agency considering switching to a new management system?
First, realize the transition won't be perfect; there will always be some glitches, bumps in the road or initial frustration. What's important is finding a provider that will help you through those bumps. SIS did a great job helping us through them. Their customer service is just great.
On Partner XE specifically, I'd say it may initially seem overwhelming to look at something new. But, you and your team will quickly get comfortable with it. There's always a fear of the unknown, but we are extremely happy with SIS and Partner XE. They've kept their word and helped us run better as an agency.